The competition is confirmed for Tomorrow 3rd february and will start at 11.00 am. The new event location is Val Cantone and everybody can reach it from the top of Carosello 3000 gondola.
Important information to reach the event location and see the competition live:
– Accreditated media can get their lift pass at the office at starting ot Carosello 3000 gondola
– people without ski/snowboard could use a shuttle service with snowcats from the top of Carosello 3000 gondola.
– people with ski/snowboard can reach the event location from top of Carosello 3000 gondola, going down direction Federia and going up with the chairlift.
Prize giving will happen at 5.00pm at Stalet (bottom of Carosello3000 gondola).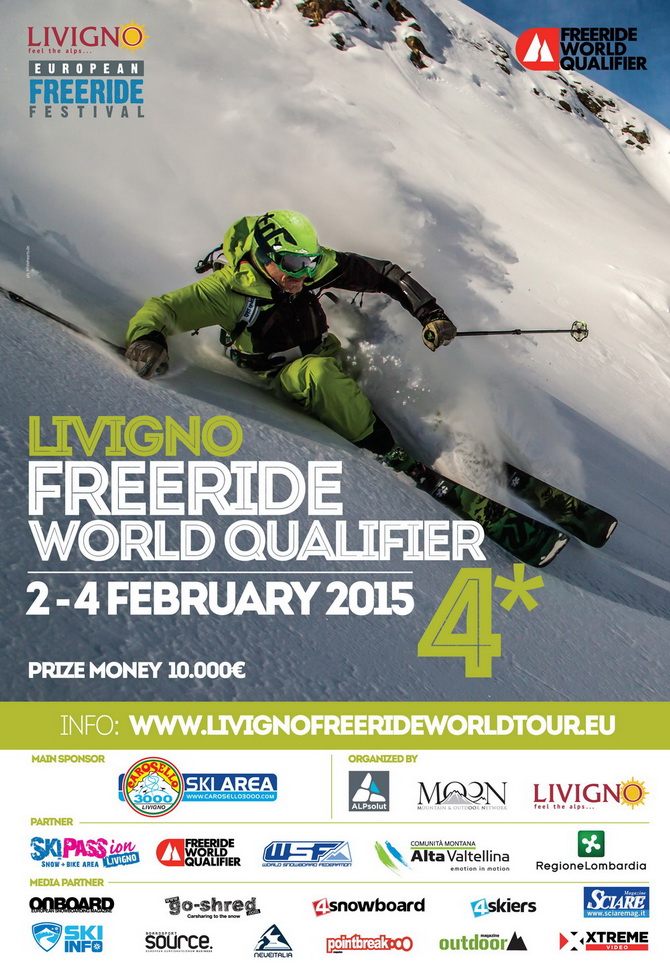 Freeride Forum update for Day2
Tomorrow afternoom will happen the second and last part of the Freeride Forum. Please note the location of Projeck:Berg Workshops is changed (read details below). Round table with Manolo and Luca Gasperini is confimed!
European Freeride Forum
Day2: Tuesday the 3rd, February 2015
1.00 pm – Projekt: Berg. A high level educational program for avalanche trainings composed of 2 practical  workshops
Presented by Benjamin Reuter (Mountain guide; SLF – Swiss Institute for Avalanche Research).
Workshop 1: 'BE OUT BE READY'
Avalanche Rescue training coached by avalanche professionals. Got your safety pack? Now, keep cool! A tricky avalanche rescue scenario is waiting to be solved. There were three riders. You see their tracks. Now they nap below the snow. Get organized, get going! We provide comprehensive feedback on your performance and offer training with professional coaching! This is a highly dynamic workshop suited for everyone who believes controlling the beacon is easy.
Workshop 2:  'BE A PRO'
Snow fracture, avalanches release, dig in with the avalanche professionals' coaching. Keen to see what happens below your feet when riding? What does a weak layer look like? When does it fail? Summer and winter we do nothing else but think and live snow and avalanches. With us you get your chance to dig deep in: Get your hands on the snowpack. Do the pros' tests. Ask all your questions.
NOTE: Participation to Projekt:Berg workshops costs € 30 and needs to be  booked in advance. Both will be executed close to the Livigno Freeride World Qualifier event location (Val Cantone @ Carosello 3000) approx at 1.00 pm
4.00 pm – From Freeriding to Free Climbing
Round Table with Manolo and Luca Gasparani do tiscuss the evolution of "Freeclimbing" compared to the evolution of "Freeriding".
6.00 pm –  Freeride World Tour & How to organize a Freeride Event.
Presented by Freeride World Tour.
The history, the events around the world, the different categories and the way to qualify for the most important international freeride competition.
What's behind a freeride event? How to guarantee the quality of the slopes and the safety of the participants? Which mountain to choose, depending on the level of the competition? A short guide about the main topic to consider in order to organize a successful (and safe) freeride event.
FWT Management SA, based in Lutry/Lausanne-Switzerland, is organizing world-class sports events in mountain resorts and regions since 1996. Founder of "Xtreme Verbier" – iconic event in freeride skiing & snowboarding –, FWT Management SA has taken the stand-alone Xtreme Verbier event to create in 2008 Freeride World Tour (FWT), Freeride World Qualifier (FWQ), and a Freeride Skiing Team Competition (Swatch Skiers Cup) with events in Europe, North America, South America and Oceania.
For more information about the European Freeride Forum and to book your participation to Projekt:Berg Workshops please contact Anna Negri at [email protected].